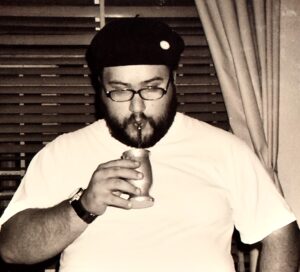 Education
JP Hugo Vargas holds a dual B.A. in Writing and Literature and Photography, an MAT in English and Linguistics, a Post Graduate Certificate in Conflict Transformation Across Cultures, professional certificates in multi-cultural peace-building/dialog and a trade school diploma in audio production/engineering. He has coursed and passed with honors, 18 credits of additional post graduate work in order to sharpen his consulting, writing, and creative work. His supplemental post grad work was focused on modern world system theory, global issues and solutions, Latin American issues and culture, and varied coursework in human development, counseling psychology, and counseling interventions. His aim was to round out the skills needed in every area of human interaction that is valuable to bettering our shared sphere.
Consulting
He is a successful and sought after consultant; a freelance feature writer, editor, print-maker, and qualitative ethnographic researcher. He specializes in meeting and communicating the needs of employees with employers. He has worked in partnership with national and international companies, small businesses that need a deep look into the culture and needs of their employees, and any organization-private or governmental-that requires a thorough approach to inter & intra-communal problem solving. His advocacy and interchange from employee to employers and vice versa is analytical, based in sound inter-cultural dialog, empathetic, and designed using the most current conflict transformation and counseling strategies. He is natively fluent in Spanish and at an elementary level of French.
Visual Art-Work
His photographic work is based on 35mm or 120mm film photographic compositions, alternative process printing, using soluble metals, egg washes, oil paints gum-bichromates, Xerox machines, and giclée. He has based most of his portfolios on "Ratios in Visual Space," and the contrast of the "evidence of humanity and its impermanance." He tries, with differing degrees of success, to use natural ratios in his composition of music and in his work in authoring novels, letters, and newspaper features as well. (When it is possible). His photographic process and printing is made using old, unbalanced, and broken cameras, and his film development is purposely conducted in the most limited capacity. Any digital changes made to a photograph are made in less than 1.5 timed minutes and without revision. The photos must show the grain of quick work, the unsubtle nature of dirt and blur, noise and haste.
Authorship
He has authored two novels, "Madame Chartreuse Sweet 66's and "The Place of the White Dog." The latter not being considered by him as "ready for publication." The novels are literary fiction and magic realism, "mostly light on narrative structure," however, conceptually dense, and designed to elicit strong emotions with the reader. They were constructed to deserve multiple peruses to find what meaning it may have for each person. He holds firm to the belief that narratives are not as important as the emotions that a single sentence, theme, or movement of prose can bring up in a reader. His books are not meant to be best sellers, or meant to generate income besides the satisfaction of having said what he wished to say, and the feelings and emotions that were brought forth in the mind of the reader.

Final note
He has worked for his fair share for pocket change and "tobacco and whiskey cash," at almost every newspaper in CT. He has loved writing full spread features; employed himself as a butcher's assistant; shop clerk; library archivist, college professor, consulting researcher, conflict transformation specialist, and amateur gambler on clandestine trivia circles. He values all labor, and sees no difference in any profession or trade that supports ones family nobly. His nexus of enterprise and vision is helping vulnerable communities and people find the skills advocate for themselves and communicate their issues, needs, and boundless skills and gifts.
He has spent the majority of his developing adult years traveling and working to ameliorate conflict and violence around the world. His studies and work have taken him to Western and Central Europe, Central and Eastern Africa, and South America. He is Argentine-American, and has maintained and fostered close connections to the Latin and Southern American communities in Hartford county as well as NY and New England. He is 38 years old.
He enjoys weeks alone in the woods, camping and living minimally, fishing and sleeping under the stars in introspection and solitude as much as he is able. He has been known, by those close to him, to disappear for many years at a time, without trace or reason. One can occasionally find him sitting on stones collecting leaves and insects, meandering wearing old tennis shoes through the forests bounding the suburban sprawling hills of central Connecticut, or lost along the loamy shores and sandy embankments of that great New England river. Depending on the scope of his whiskey intake, he may state himself to be a "legendary" adventurer. Some facts "may" be questionable; however, he has smuggled audio equipment into US embargoed countries, helped build community radio stations, narrowly escaped dictatorial governmental inquires, prison and violence in odd places, crashed two Peugeot 504's on mountain roads, survived a couple fist-fights with gauchos, and has a 5-0 unbeaten arm wrestling record against Nigerian and Sudanese pimps.
He traipses through life's dangerous situations with the tact and grace of a thunderstorm.
10 Percent of all proceeds of sales (in perpetuity) of prints, books, and all mechanically generated media will be put in trust, and shared with organizations that work for the common good of "people who need people." The hungry, the oppressed, the exploited; POC finding equal opportunities diminishing, the advancement of LGBTQ+ communities, medical services for those unable to find them, and equality in our stagnant and "industrially modeled, factory based" educational systems.
That is the métier of his dream, far-fetched yet possible.